Valerie Peter Chong, Program Coordinator with CUFPI, interviews Kelvin Taitt, Co-founder and Executive Director of East Brooklyn Mutual Aid (EBMA). They discuss the history and growth of EBMA, the organizational structures that keep the group afloat, and upcoming efforts to create a community food hub in East Brooklyn.
Special thanks to Yukari Izumiyama for her assistance with transcribing, editing, and researching articles to include in this interview.
VALERIE PETER CHONG (VPC): COULD YOU PROVIDE A BRIEF DESCRIPTION OF EAST BROOKLYN MUTUAL AID AND ITS HISTORY?
Kelvin Taitt (KT): We are a membership organization collaborating with community leaders and developers to create models of self-sustainability and upward mobility in East Brooklyn. The way we're looking to do that is by creating a food hub and affiliated cooperative grocery stores to address the disadvantages of the centralized contemporary food system by encouraging creation of smaller polycentric food sovereignty hubs.
VPC: HOW DID THIS ORGANIZATION COME TO PASS?
KT: COVID-19: Supporting our community and our neighbors during the time when we all needed it the most. Our organization grew because the need of our community increased. Folks needed support. We saw a gap that we could fill with community support. We found a way to sustain ourselves, build systems, strengthen systems, and amplify the voices in the work that's already being done.
When I first started, there were three of us who were involved in the initial development of EBMA: myself, a neighbor, and a community advocate who didn't live in the community but had access to resources. They reached out to me and asked me if I wanted to start an initiative or a mutual aid group that delivered groceries to folks who needed them in our neighborhood, especially seniors. That's how Ocean Hill Brownsville Mutual Aid started. We were a small group. We delivered groceries to 30 families per week. I was responsible for all things on the ground: shopping in the grocery store, mobilizing volunteers. As we began to grow, we realized that we needed to build more capacity and expand to the areas that were not being supported. As a group, we decided to become East Brooklyn Mutual Aid to really encompass all of the areas that we support.
VPC: HOW WOULD YOU DEFINE CHARITY?
KT: Folks who give to a cause that they're not attached to or have no relation to,  just wanting to help in any way that they can without benefiting in any way from it besides the tax break.
Supporting each other.  You take what you need and leave what you can. That peer-to-peer transaction of really being there for the people that you live amongst. And it's not charity. It's never to be seen as charity. Everything that we do has a mutual benefit for the folks that it serves.
VPC: YOU RECENTLY RECEIVED 501(C)(3) STATUS. HOW DID THAT DECISION COME ABOUT?
KT: Officially we obtained our 501(c)(3)  status in December of 2021, and in February of 2022 we received our official 501(c)(3) tax-exempt status. We saw we were running into a lot of barriers in terms of fundraising. In order for us to be self-sustainable, we needed to make that transition. It wasn't for any other reason than to make it easier for folks to support our mission. We still operate in the community. We still operate in a way that we value and that aligns with our mission, and our goals in our community. The tax status is for monetary support. 
We work with foundations and grantmakers who believe in and allow us to fulfill the vision that we have for our communities. I don't consider any grants that dictate what they want to see or how the program should run. I apply for grants that allow amplification for what we're already doing. I'm also very intentional about who we get in touch with, who we work with; values and missions must be aligned with our community. I don't take or apply for anything and everything. I'm very intentional about that.
VPC: CAN YOU TALK A LITTLE BIT ABOUT YOUR ORGANIZATION'S LEADERSHIP STRUCTURE? WHO IS A PART OF THE TEAM?
KT: We are a humble team. I serve as Executive Director. We currently do not have staff outside of myself. This fall, grant-pending, we will hire a development manager who will help us seek and manage our grants and contributions, as well as a community organizer who will help us build and maintain relationships as we continue to grow. We have a board of directors. There are nine people that serve on our board of directors, all of whom live and work in this community and have been involved with our organization for at least a year. (90% of them identify as female, one of them identifies as non-binary, and then 70% of them are BIPOC or  LGBTQIA+).
VPC: I ASSUME THAT THE BOARD WAS NECESSARY IN ORDER TO GET NONPROFIT STATUS.
KT: Correct, you need to have a  minimum of three people serving on your board of directors: a board chair, a secretary, and a transfer. But I also wanted a group of advisors, leaders, and partners to help navigate all of the work that we're doing as an organization. I don't want to be solely responsible for all of the decisions that are made that affect our community.
VPC: CAN YOU TELL ME MORE ABOUT EBMA'S DECISION-MAKING PROCESS AND HOW YOU MAKE SURE IT REFLECTS THE NEEDS OF THE COMMUNITY?
KT: We talk to our community members that we work with. Whenever we're looking to make a decision, like which farms we work with and provide community labor and technical assistance to, I spend a lot of time at our pantry, our partner organizations, and really working alongside folks in our community. I get their insight because any decision that we make as an organization would have an effect on our community members in many different ways. We always want to get them to be a part of the conversation and be part of the decision-making. We have an advisory group that we rely on heavily for decision-making, and we vote on everything. All decisions are voted on, no matter what the decisions are. I do have the autonomy to make decisions on things that affect our business day to day, but we vote a lot. It's important to me that our board and our advisors in our community are involved in our decision-making and involved in our conversations. And if there's an opportunity for folks to learn, or there's an educational component to it, I make sure that they're involved in that too.
VPC: IT SOUNDS LIKE A LOT HAS CHANGED SINCE YOU BEGAN THIS WORK. FROM MY UNDERSTANDING, YOU STARTED MOSTLY AS A FOOD DISTRIBUTION ORGANIZATION. YOU'VE GROWN TO NEW LEVELS SINCE THEN. CAN YOU TALK A LITTLE BIT ABOUT THE WORK YOU DID AT THE BEGINNING OF THE PANDEMIC, HOW THAT CHANGED AND GREW, AND WHAT YOUR DAY-TO-DAY FOCUS IS NOW?
KT: When we first started, we were distributing free groceries delivered to our neighbors and our community members who requested them. Now, it's about bringing in more access and education and building marketing opportunities and more economic mobility for our community. It's about how we create longevity and sustainability, add to the solution and not the problem. For us, we see the free food distribution model as adding to the impoverishment of our communities as opposed to creating opportunities for self sustainability and economic development. We want to be able to support the farmers and producers who don't have the capacity or the scale to run their businesses in a way that they need to be successful. We want to make sure that people have the education around food and nutrition to be able to support themselves. 
We've actually just finished negotiating a lease for our first store, our pilot store in Cypress Hills called Black Radish. It's gonna be at the Chestnut Commons Development: 250 units of truly affordable, low-income apartments.
We're intentional about working with Black farmers. Those are the first ones that we'll be working with in sourcing for our stores. We are working with the Black Farmer Fund and many ecosystems across New York State that work with BIPOC farmers. Less than 1% of farmers in New York State are BIPOC, which is just shy of 140 farms. Our intention is to work with as many of them as we can to support the inventory that we have in our stores. Of course, we'll also work with the major vendors and distributors to ensure that we have all of the products available for people that they need. But it's important to have that intentionality around farm fresh produce from the producers that represent the makeup of the communities that they will be serving. We'll be an EBT/ SNAP retailer. We'll be able to provide great prices and great discounts for the folks that need it, while also paying our farmers their full rate as well for the products that we get from them. 
VPC: HOW CAN THE COMMUNITY AND SPECIFICALLY READERS OF THIS NEWSLETTER SUPPORT EAST BROOKLYN MUTUAL AID?
KT:  Right now, we are fundraising for our grocery store. We will be launching a crowdfunding campaign. We're looking at creative ways of raising capital where we do not have to go to the City or the State or the government in general. We don't want our hands in their pockets, so they don't have to put their hands in ours. Donations are great, or spreading the word, connections, resources, offering what you can, in any way. We have a volunteer page for folks to sign up for volunteer opportunities available.
ABOUT THE INTERVIEWEE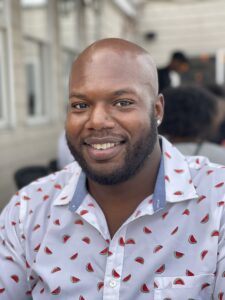 Kelvin Taitt, Co-founder and Executive Director of EBMA
East Brooklyn Mutual Aid (EBMA) was born during the crucible of the COVID-19 pandemic in response to East Brooklyn's higher death rates than NYC's average. Responding also to East Brooklyn's high food prices and low-quality options, EBMA partnered with the Christian Cultural Center, The Corbin Hill Food Project, Brooklyn Packers, and the USDA to provide food for approximately 100,000 Brooklyn residents. As Co-founder and Executive Director, Kelvin Taitt has deep roots in Brooklyn. In just two short years, he has drawn on his social entrepreneurial, food distribution, and community organizer skills to implement plans for a BIPOC-run food hub and cooperative grocery stores in East New York. Hunter College has increasingly recognized his work on equitable food procurement and delivery, naming him one of the 40 Stars under 40 in NYC Food Policy in 2022 and receiving a Forefront Fellowship in 2021 from the Urban Design Forum. This year, he was admitted to Cornell University's Leadership Development Program (LeadNY), a two-year program for his role as a Changemaker in Food Justice at EBMA.